Description
A delicious afternoon Snack. The filling in samosas can be vegetables or meat.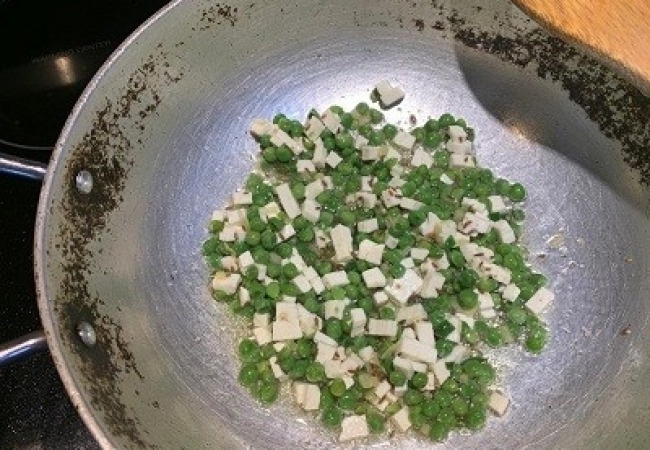 6
Mix with spices and mashed potatoes
7
Cook till the water evaporates
9
Make triangle shapes with flattened doe and fill the pockets up with samosa filling
12
Take them out of the oil when the samosas turn golden brown
Samosas are popular Indian & Pakistani snacks eaten normally in between meals. Samosas also make a popular Iftar food and are commonly accompanied by Pakoras and other deep-fried delicacies. Samosas are regular on my menu and I normally make samosas once a week. The samosas can also be frozen and consumed later on. Samosas care about commonly available items in Indian grocery stores across the world.
Ingredients for Samosas:
1. Basin (Gram) Powder
2. Potatoes
3. Grated Paneer
4. Spices: red chilli, dry coriander powder, salt, ground coriander powder, cumin powder, cumin
---
Steps for making Samosas:
1. Take two cups of all-purpose flour
2. 1/4 cup of Ghee - purified butter
3. Add 1.5 teaspoon salt, a pinch of ajwain, and knead into a hard dough
4. Let the dough rest for 1-2 hours at room temperature
5. Take the dough and make equal parts. Make circular shapes. Cul these pieces into half.
6. Make triangular samosa shapes and fill with the filling mixture prepared above
7. Let them rest for one hour.
8. Heat Canola oil to medium/low temperature. The samosas should be fried on medium heat to ensure that they are thoroughly cooked from the inside.
9. Fry for 2-3 minutes until golden brown.
10. Once ready the samosas can be served with tamarind or mint chutney.
---
Recipe for the filling
1. Boil four potatoes. Let them cool completely
2. Add 1-inch ginger, 1/4 cup of cashew nuts, 2 green chillies, 1/4 cup cilantro, 1/2 cup of boiled peas. 1/2 cup of Paneer.
3. Put oil in a wok and add cumin ( 2 tablespoons), ginger, and peas. Sautee for 3 minutes on medium heat.
4. Put the Paneer, fry for another three minutes
5. Mash four boiled potatoes and add salt, 2 tablespoons chilli powder, 2 tablespoons cumin powder, 2 tsp garam masala (7 spice mix), 2 tsp amchoor powder, 2 teaspoons chat masala.
6. Cook the mix on medium heat until all the water evaporates.
7. Once cooked turn off the heat and add cilantro and cashews.
8. Let the mix rest at room temperature.
---