Sydney's Muslim population is increasing every year and along with it the number of restaurants serving halal cuisine can be spotted across almost every suburb.
Sydney's Muslim population is increasing every year and along with it the number of restaurants serving halal cuisine can be spotted across almost every suburb. Demand for halal food outlets and halal restaurants is ever-increasing in Sydney. The most common areas with a high concentration of Halal restaurants are Bankstown, Parramatta, Auburn and Lakemba.
Most of the meat suppliers to Coles and Woolworth are serving halal ( kosher) meat. Therefore, finding halal outlets is quite easy in Sydney as well as in Melbourne.
What is halal food?
Muslim consumer Halal meat due to religious injunction where the animal has to be slaughtered with a sharp blade and let to bleed. A Muslim prayer accompanies the slaughtering process. The meat, however, is not any different from one served in other butcheries of meat shops. Kosher (halal) meat is also consumed by Jews because in both religions the animal is sacrificed in the name of God.
Almost 90% of the Kebab Shops and Pakistani, Turkish and Lebanese restaurants serve halal meat.
Some of the favourite Halal Restaurants in Sydney
Tandoori Hut - Newtown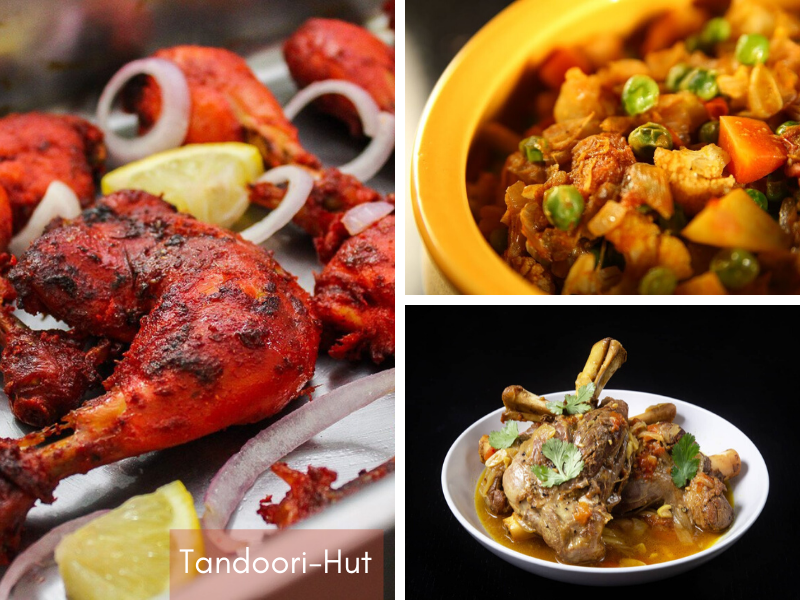 My favourite Pakistan restaurant manage by a family from Punjab Pakistan, Tandoori had has gained a somewhat unmatched position among local food addicts. Very popular with lovers of desi food, you will frequently find Indian Punjabis and Pakistanis along with a diverse range of foodies mostly likely getting recommendations from Pakistan cabbies and Uber drivers.
For meat lovers, enjoy authentic goat curry with a variety of vegetables including Okra, turnips, eggplant, potatoes and other seasonal varieties. Enjoy sizzling hot kebabs on a platter served with lovely mint sauce and cheesy nan freshly baked at the restaurant.
---
Al-Aseel Restaurant ( Middle Eastern Cuisine)
Try the taste of fresh tabouli served with a platter of mixed grilled meats cooked to perfection. A touch of garlic sauce adds amazing flavours to the spicy meat on the skewers. A vegetarian platter is a mix of vegetable puff pastries, salads, vine leaves, tabouli, baba ganouj and hummus.
Plain deep friend eggplant serves as a great side. Main dishes include a generous mix of meats with rice, yogurt and cucumbers.
Al-Aseel is definitely a must-visit if you like the fresh flavours of Middle Eastern Cuisine.
---
Mamak - Malaysian Cuisine
Mamak is one of my all-time favourite Malaysian Halal restaurants. The original branch is located on Goulburn Street Chinatown in Sydney. Ideally located in the city centre, Mamak attracts large crowds for lunch as well as dinner. A long queue outside the restaurant is expected where you can stand it see the chefs in action making amazing Rotis and desserts.
Freshly made roti infront at Mamak
Roti telur or planta roti... are quite popular in Malay food and eaten at breakfast and lunch alike.
Chicken and Lamb Curry at Mamak
If you are meat lover, chicken and lamb curries are popular dishes on the menu served with white rice or roti of your choice
Another special dish at Mamak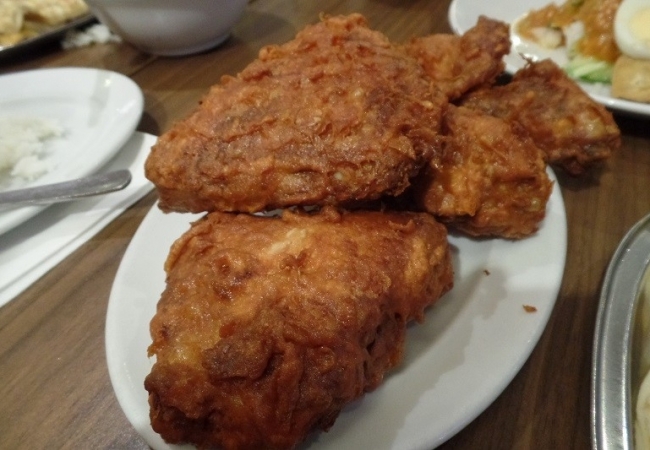 Deep friend chicken at Mamak
Deep friend chicken in Malaysian Style is also very popular dish at Mamak
Sweet roti served with ice-cream as a dessert
Desserts at Mamak
Roti with lentil and curry is my favourite at Mamak
Love this simple serving under $10
The mains are reasonably priced under $20. My favourites include Nasi Lemak (Malaysia's national dish), Mee Goreng ( spicy noodles stir-fried with tofu and prawns served with sambal sauce), curries and Rotis. Enjoy hot Tea Tarek or one of the interesting sweet drinks.
Mamak has opened a number of new branches across the city including one in Chatswood.
---
El-Jannah Middle Eastern Restaurant
El-Jannah is my all-time favourite restaurant that started with its first branch in Granville. I tried the food during its first week of opening as I used to work in Granville and immediately realized that the original flavours of this Middle Eastern Restaurant were simply too good.
This restaurant is a regular on my list for over 20 years now and the quality of food has not deteriorated. El-Jannah has picked up thousands of loyal customers, because of its quality food, great service and very low prices.
The restaurant is jam-packed over the weekends. The turnover is quite high, as you can find a sitting area quite easily. The store has expanded by adding a side shop to the sitting area. Take away food is quite cheap as compared to eat-in. Can you possibly believe to get a grilled chicken meal under $20 with plenty of accompaniments?
My favourite on the list is a grilled chicken meal with Lebanese bread, garlic sauce, pickles. Add tabouli to the mix to make a perfect meal. The tender grilled chicken with garlic sauce simply melts in your mouth. This is undoubtedly one of the best-grilled chicken in town.
The menu included chicken shwarma, chicken burgers, grilled chicken pieces. All of the meat dishes are served with pickles and garlic sauce.
---
Al Diaffah Al Iraqi - A Halal Restaurant in Sydney
An amazing find located in the busy western suburb of Fairfield, Al Dhiaffah al Iraqi is a great find a couple of years ago when I first visited this restaurant. With a relatively small menu, this restaurant specializes in making the best lamb kebabs, lamb shanks and meat dishes. With Iraqi-Kurdish influence, the cooking style has reached perfection and the restaurant survives on the regular stream of hard-core customers that visit this restaurant whenever they can.
The prices are very reasonable and the food is served with fresh-baked bread from the oven. Most dishes are served with pickled vegetables, salad, hummus and mix salad. Pick you to drink of sour milk drink to accompany meat dishes.
Al Diaffah Al Iraqi is a popular Halal resturant in Fairfield
This is definitely one of my all time favourite restaurant in Sydney. The kebabs are absolutely amazing and worth trying.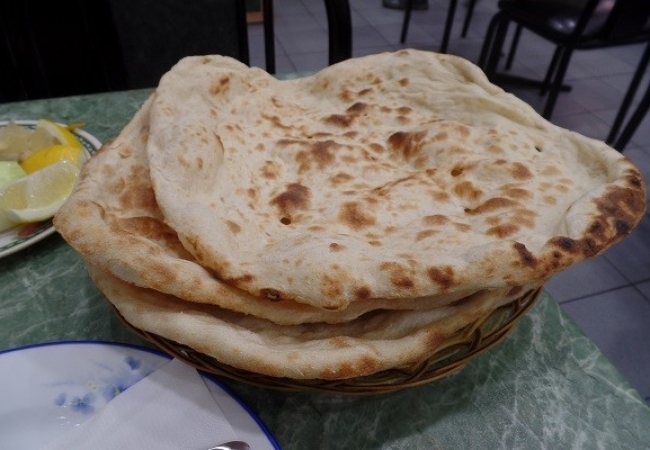 Enjoy the fresh naan bread from the oven.
All curry dishes are served with freshly baked bread and pickled salad.
Lamb Shanks
Lamb shanks are normally served with rice.
Grilled Barraumundi is quite popular in winters
If you are a fish lover, there is a new item on the menu.
Al Diaffah Al Iraqi
Interior of the restaurant is quite basic. There are plenty of pictures depicting Iraqi landmarks and locations.
I love kebabs at Al Diaffah Al Iraqi
One of my all time favourite dish.
Red bean in gravy served with bread
A little bit of gravy is always great on the side.
I highly recommend this restaurant to kebab and lamb shank lovers. Lately, the restaurant has added grilled barramundi to the menu as well.
Make sure you arrive at the restaurant before 6 pm because most of the dishes sell out quick. The restaurant closes around 9 pm. Therefore, late-night dining is not a choice.
---
Neptune Palace - Halal Restaurants in Sydney
My Rating 9/10 $$$
Location: Circular Quay Sydney City
This iconic restaurant has satisfied the taste bud of thousands of food lovers through the years and has achieved the status of one of the best Malay-Chinese Restaurants in the Sydney CBD Area. With an impressive banquet menu, the restaurant is sure to please the food lover with an extended menu ranging from Malay Curries, Nyonya specialities with a Chinese influence.
Choose from a huge menu comprising prawns, oysters, lobsters and crabs, served steamed and cooked in various styles. Enjoy the impressive Nyonya Snacks like the teacups (Kuch Pie Tee), Seafood Sang Chou Bau or Crispy Mandarin Ducks served with pancakes. The mains include a wide range of fish and meat dishes cooked to perfection. Kelantan Prawn Cutlets, Sambal Cutlets and Kari Prawn Cutlets capture the flavours of Malaysian cuisine. For noodle lovers, the choice is huge ranging from Fried Kway Teow and Seafood Chow Hor.
---
PIN IT TO READ LATER