Food in Asia is best known for its uniqueness and exquisiteness in taste. I have travelled extensively across Malaysia over the period of the last twenty years and visited some of the best cities popular for food. I came across Nyonya food also known as Peranakan food which is quite a popular form of cooking in Penang as well as in Melaka. Nyonya food captures the essence of the rich culinary history of Malaysia.
What is Peranakan food?
Peranakan culture dates back to the early 20th century when rich Chinese migrated to various parts of Malaysia and inter-married affluent Malay people. This intermixing brought about a new style of cooking called Baba Nyonya. The cultural change did not only confine to food but is evident in unique architecture, furniture and lifestyle which is still very popular in some parts of Malaysia.
---
Exploring the best Malaysian Peranakan food in Penang - Georgetown
Georgetown Penang is the culinary capital of Malaysia with a deep-rooted Nyonya culture dating back to settlers coming to Penang in the last century. Therefore, there is a large impact of Peranakan culture on the lifestyle of people living in Penang.
I met the owner of "Little Kitchen" in Noorudin Alley in Penang and was given the first introduction to the history of Nyonya food, cooking style and serving style. Apparently, the women in the family-owned business cook the food and the men serve the food. The restaurant is decorated with traditional Baba Nyonya-style furniture. The back quarters of the restaurant have a lavish living area for the family.
---
---
I started off by drinking some local hazelnut tea served before the meal. The food is served in a small serving based on the choice of meats and vegetables. I ordered a mix of vegetable stir fry and chicken curry prepared in a thick and very tasty sauce.
The food can be quite pricey as well. Some of the unique dishes like birds' nest soup are also served at Nyonya restaurants. I spent over US30 on the meal but thoroughly enjoyed the recommended dishes including vegetarian stir-fried dishes and chicken curry.
Read more about: Precious Old China Restaurant in KL
---
Exploring the best Malaysia Nyonya Food (Peranakan Food) in Kuala Lumpur - Precious Old China Restaurant
A second memorable encounter with Nyonya food in Precious Old China Restaurant in Kuala Lumpur Central Market. This restaurant has captured my tastebuds and I make it a point to visit this restaurant every time I visit Kuala Lumpur.
The appetizers are nice cup-cake-shaped shells (Kuih Pai Tee). These shells are filled with a mix of fresh and cooked vegetables and sauces. The taste is absolutely amazing and whets your appetite for the main dishes.
---
Exploring the best Malay Food in Melaka - Nancy's Kitchen
Melaka has a number of Peranakan restaurants offering a good mix of authentic flavours. With increasing development and population in the last couple of years, the quality of food and choice has gone up as well. My first visit to a Melaka restaurant was Nancy's Kitchen on Jonker Walk. In late 2019 I figured out that the restaurant has moved to the suburbs. I visited Nancy's Kitchen in November 2019.
---
---
The experience was a memorable one. The menu and quality of food have definitely been maintained all through these years. I ordered Debels Chicken, a chicken curry prepared with potatoes and cooked to perfection. A good mix of seafood dishes including fishhead in sauce and prawns in tamarind sauce is worth trying.
Iinterior of Nancy's Kitchen Melaka
Devil Chicken Curry with Okra
Prawn cooked in Nynoya Style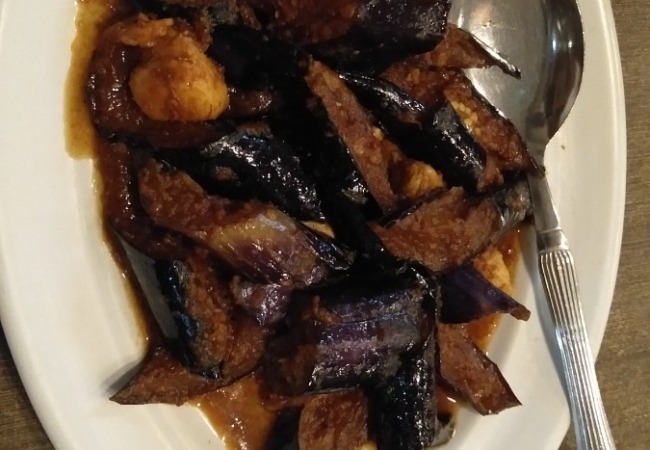 Eggplant in Belachan Sauce
Loved the eggplant dish cooked in Belachan Sauce
Chicken Curry Recipe
Devil curry is a popular dish on Nyonya menu
Nancy's Kitchen
Loving the food served in Nancy's Kitchen in Melaka
Deep fried Okra with sauce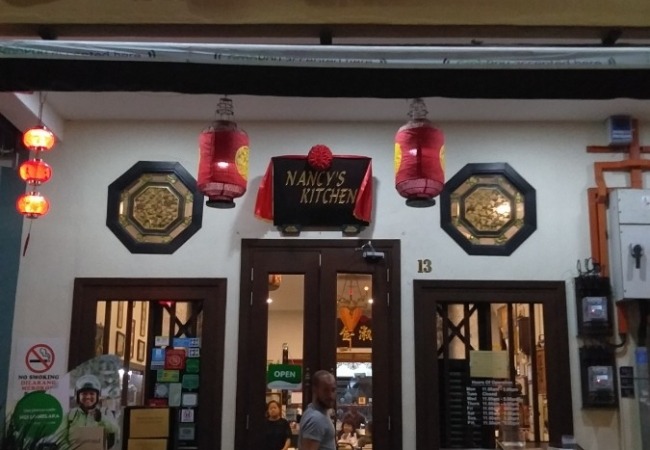 Entrance to Nancy's Kitchen
The restaurant has a great ambience and normally stays busy until the late hour of the evening. The desserts include Durian Mochi, Cendol and Air Batu Campur. The experience was great. I plan to return to this interesting restaurant next time I visit Melaka.
---
Popular Nyonya Dishes (Peranakan Dishes) from Malaysia
Nyonya Chap Chai - Nyonya Mixed Vegetables
Sayur Goreng Sambal Belacan - Vegetable in Fermented Shrimp Paste
Rendang Chicken
Peranakan Curry Chicken
Laksa Nyonya
Chicken with black nut